The Albany Municipal Airport was dedicated in 1931. In 1998, the airport became the first airport in Oregon to be named to the National Register of Historic Places, and was the City of Albany's fourth National Historic District.
Proposed Albany Municipal Airport Disadvantaged Business Enterprise Program (DBE) Goal
The City of Albany, owner of Albany Municipal Airport has established a Disadvantaged Business Enterprise (DBE) Program. This program is for businesses that are certified as socially or economically disadvantaged in accordance with U.S. Department of Transportation (USDOT) regulations, 49 CFR Part 26.
The Airport receives federal financial assistance from the USDOT through the Federal Aviation Administration (FAA) primarily for airport improvement projects. As a condition of that financial assistance, the Airport must ensure the DBE-certified businesses have an equal opportunity to compete for and perform work on federally funded Albany Municipal Airport contracts.
The federal grant assurance requires the City to establish a DBE plan and set annual DBE participation goal for airport projects and submit annual reports to the FAA detailing actual DBE participation.
Businesses seeking to be certified as a DBE or as an ACDBE should contact the Oregon Certification Office for Business Inclusion and Diversity (COBID) for more information: https://www.oregon.gov/biz/programs/COBID/DBE-ACDBE/Pages/default.aspx
Aviation Information
Coordinates: N44, 38.27; W123, 03.57
Elevation: 226
Runways: 16-34 3,004 X 75, asphalt
Approaches: GPS, RNAV, VOR/DME
FSS: McMinnville 122.6
Weather contacts: AWOS 135.775
Charts: Seattle; L1
Fuel: EPIC Aviation 100LL; self-service; most major credit cards; 24-hour
Amenities: Restaurants, hotels, taxis and rental cars available from/adjacent to field. Visit the Albany Visitors Assocation for more information.
Current Conditions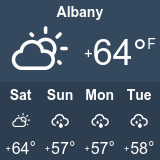 Governance & Master Plans
Ongoing projects by the City are seeking to preserve and extend the use of the historic hangars on the property.
---
FBO Services

Skyhawk's Last Flight
In October 2019, this A-4 Skyhawk fighter jet was lifted into place at the entry of the Albany Municipal Airport.
Dick Ebbert, Albany's former economic development director, initiated the project in 2007 by working with the General Services Administration to obtain three surplus planes from Las Vegas.
Local pilots at the time funded the cost to bring the planes to Albany and volunteers worked to reassemble the parts into one plane.
The plane assembled into the monument was used in Vietnam, Desert Storm and National Guard units. It's been hollowed out, but it still weighs 3 to 4 tons.
The paint job reflects both the Navy and the Marines and the "Capt. Dick Ebbert 'Skippy'" emblazoned on the side is in honor of Ebbert's work to get the plane to Albany. Ebbert died in May 2008.